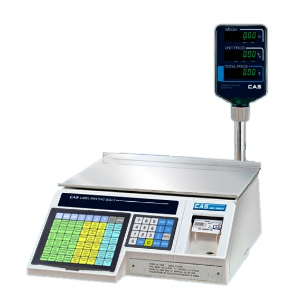 30 lbs Label Printing Scale
Scale-30lb-LP
IMPORTANT NOTICE:
This scale is not fully integrated with Linga rOS.  
Data from scale can be transferred manually to the POS via 
Dropship item, estimated lead time for this product is 3-6 weeks 
SCALE FEATURES
The best scale on the market today in its class. A feature rich, easy-to-use label printing scale. With its ability to use the most popular label formats, it is perfect for deli's, convenience stores, grocery stores, etc. 

SCALE SPECS

30 x 0.01 lbs / 15 x 0.05 kg
5/6/7 (Weight/Unit/Total)
Scale to Scale PLU Data Transfer
Scale to PC & PC to Scale Data Transfer
54 Speed Keys
4,000 PLU
50 Character x 8 Line per PLU
58 mm x 30 mm ~ 58 mm x 100 mm
AC 120V, 60 Hz
16.1(W) x 16.9(D)x7.8(H)
Legal for Trade