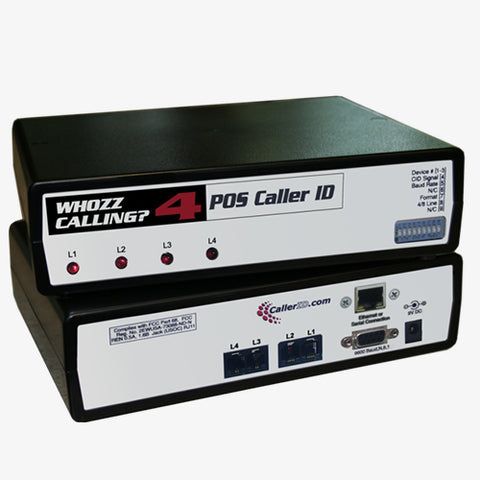 4-line Caller ID for Phone Orders
CallerID-4
Hardware Features
Inbound Caller ID
Incoming call data includes phone line number; time, date, Caller ID number and name (where available).
Never Miss Data 
Individual microprocessors on each channel capture all data from simultaneous calls on multiple lines.
Large Installations
Four and Eight-Line Units can be chained together to monitor up to 32 phone lines into one computer network.
All Inclusive Package
Product includes a wall mount power supply; 6' Ethernet or Serial cable; mounting bracket; and CD with software, diagnostic tools, and manual.
Specifications
Physical Dimensions:  2.0" x 8.1" x 6.25"
Shipping Weight:   5lbs
Phone Connections: Modular RJ11 (2 Wire)
Computer Connection: Ethernet 6' CAT5e Cable
* Requires SaaS Subscription