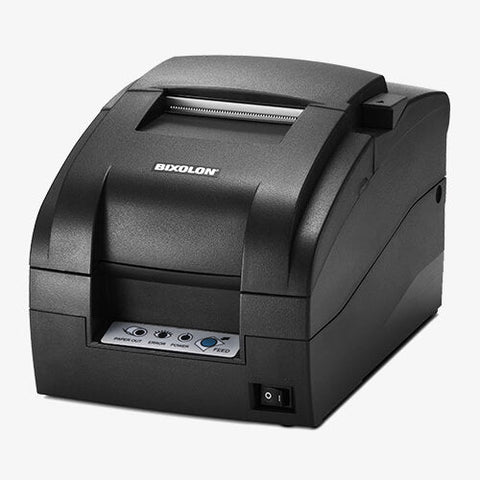 Remote Printer PaaS + $19.99 Mo.
K-Printer-B-Banker-PaaS
The remote kitchen printer is a more powerful and enhanced performance impact dot POS printer to address customers' needs in restaurant, hospitality and retail industries. The fastest speed in its class(5.1 lps) allows kitchen orders to print faster than ever with two color, black and red printing to highlight special offers and print logos. Compact size with embedded power supply maximizes the efficiency of working environment. Eco-friendly design of the lowest standby power and various international standards provide reliability to the users.
LEASE DETAILS
$49.00 Initial Fee
$19.99 Monthly Payment / 36 Months
Additional Information
| | |
| --- | --- |
| Weight | 1 lbs |
| Dimensions | 8 x 8 x 8 in |
| Weight | 5.29 lbs |
| Interface | Ethernet/ TCP IP, Serial |
| Environment Characteristics | Humidity: Operating: 10 ~ 80% RH Storage: 10 ~ 90% RH, Storage: -20 ~ 60℃ (-4 ~ 140℉), Temperature: Operating: 0 ~ 40℃ (32 ~ 104℉) |
| Print Characteristics | Print Method: 9 Pin / Serial Dot Matrix, Print Resolution: 80 dpi (horizontal) / 144 dpi (vertical), Print Speed: 5.1 lps, Print Width: Up to 63.5 mm, Sensor: Paper End, Paper near End, Wall Mounting Paper near End, Rear Cover Open, Black Mark |
| Dimensions | (6.29 x 9.40 x 6.18 inch), (W x L x H): 160 x 239 x 157 mm |
| Physical Characteristics | Drawer port: 2 ports (via y-type adaptor), External Power Adaptor 100-240V AV, 50/60Hz, Power: EnergyStar Certified |
| Media Characteristics | Diameter: 0.06 ~ 0.085 mm, Media roll Diameter: Up to 83 mm Media roll, Media Type: Receipt Media Width: 76.5 mm, Supply Method: Easy Paper Loading |
| Performance Characteristics | Memory: 64 Mbit SDRAM, 16 Mbit FlashROM NV image Memory: 256 Kbytes Receive Buffer: 64 Kbytes User Define Buffer: 64 Kbytes Interface: USB V2.0 HS, Serial, Parallel, Ethernet |
| Reliability | Driver: Windows Driver, OPOS Driver, JPOS Driver, Linux CUPS Driver, Mac Driver, Virtual COM USB/Ethernet Driver, Utility Program, Emulation: BXL / POS, Printer Unit (MCBF): 18 Million Lines, SDK: iOS SDK, Android SDK, TpH: 300 Million Dots/Wire Auto Cutter: 1.5 Million Cuts software |
| Fonts / Graphics / Symbologies | Character Sets: Alphanumeric: 95, Character Size: Font A: 9 x 9 Font B: 7 x 9 / KOR: 17 x 9 CHN: 16 x 16, Characters per Line: Font A: 35 Font B: 40 / KOR: 20 CHN: 22, Extended Graphics: 128 × 27 page, Graphics: Supporting user-defined fonts, graphics, formats, and logos, International: 48 |